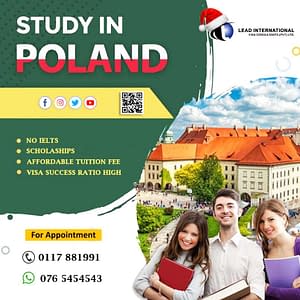 Dreaming for you higher studies in a Europe country.✈️
But worrying with your IELTS!!
Stop worrying we have a solution here for you!!
 Program availability
Faculty of arts
Faculty of biology and biotechnology
Faculty of chemistry
Faculty of earth sciences and spatial management
Faculty of economics
Faculty of humanities
Faculty of law and administration
Faculty of mathematics, physics & computer science
Faculty of pedagogy and psychology
Faculty of philosophy & sociology
Faculty of political science and journalism
Introduction of a new program IT CYBER SECURITY
 Benefits
Scholarships
Special scholarships
Affordable tuition fee
Discount of 150 euro if you register & pay your 1 year tuition fee before 31St of January 2021
✈️Intake Summer for IT cyber security Winter
Hurry fly to your dream destination and make your dream come true!!
Call us and fix your appointment and get a quality and reliable service with our experts…