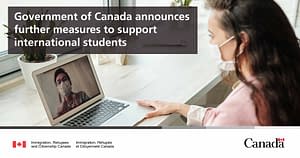 International students: temporary changes to the post-graduation work permit (PGWP) program put in place earlier in the pandemic are being extended and expanded.
Studies completed outside Canada up to December 31, 2021, will count towards a future PGWP and allow international students to complete their entire program online from abroad while still being eligible for a PGWP.
These temporary changes apply to all international students who are enrolled in a PGWP-eligible program, and meet all other PGWP criteria.
Learn more about the measures announced today by Minister Mendicino to ensure that international students won't miss out on opportunities after they graduate due to the pandemic: https://canada.ca/…/government-of-canada-announces…