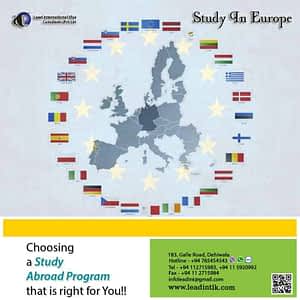 CHOOSE EUROPE FOR YOUR STUDIES AND GET BENEFITS
With so many study abroad options, it can be hard to choose where you want to go. We are here to tell you that if you don't study abroad in Europe, you're making a mistake. Switzerland, Italy, German, France, Sweden, Latvia, there are so many unique and fascinating cultures in Europe, and no matter where you study in Europe, you'll have the opportunity to visit all of them!
1. You'll learn a new language
——————————————-
Despite the size of the continent, there are so many different languages spoken across Europe. Whether you're looking for a way to improve your existing language skills or hoping to learn a whole new language – Europe is the place.
2. You'll meet people from all over the world
————————————————————
Europe is super multicultural. As soon as you visit any major European city like London or Paris, you'll instantly realize that you are not alone in being a foreigner. Not only are there millions of immigrants from all over the world living in Europe, but Europe is home to some of the biggest tourist attractions in the world. No matter what time of year, you're bound to find people from different countries staying at your hostel.
3. Not to mention, you'll get to experience Europe's incredible history
———————————————————————————-
For those of you that didn't already know this, Europe is pretty old. And this means each country has their own long and unique history, it's up to you to explore it!
4. it's super easy to travel around Europe
——————————————————-
Europe is small, which means it's extremely easy to travel around. Even if you only have a couple of days, flights are so short that you can easily visit another country for the weekend.
5. Flights are short (and cheap)
——————————————-
RyanAir and EasyJet are the big two – with cheap flights daily to almost all destinations across Europe, you can't go wrong.
6. And the train system is amazing (and has spectacular views)
————————————————————————————
Travelling by train is a great option in Europe if you have the time. Some of the journeys in particular offer spectacular views (if you're travelling through Austria, Switzerland, or southern Germany, you won't be disappointed).
7. The universities are world-renowned
—————————————————–
Europe has some of the best universities in the world. And many of them offer programs in English, so if you're worried about not being able to speak the language, just do a quick Google search for programs taught in English in Europe.